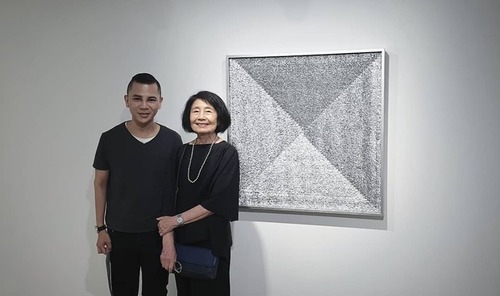 [ 與長居美國日本極簡大師 內藤樂子 合影 ]
【人生會在某一處的點上,變得更不一樣】
美國的日本籍極簡大師『內藤樂子』與『桑山忠明』夫婦,在今年夏天,於台北舉辦的這場別具意義的極簡展覽,名為:《Beautiful Nothing》" 形於無 "。
合照之餘,我專心聆聽內藤樂子的極簡理念,得到許多的鼓勵,有一種『美』,並不是裝得越滿就越好,有一種看似『無』,其實卻可以讓你體會的『存在』,是『極簡minimalism』更高的境界。你並沒有失去,也不需要搶奪,因為,你已經可以留住空間中最重要的元素,讓這單純元素呈現最美的自然力量。
以前,我無法了解這類的藝術展,甚至覺得它太費腦力,太做作了。
如今,我萬萬沒有想到,現在的自己竟然可花上一整天來體會這種展覽所帶給我的震撼!
是甚麼,讓我內心產生了如此巨大的轉變?
不是因為我變得強大,我想,或許是內心有一塊真實的自己,願意騰空出來,像海綿般,吸取眼前所得到的精華訊息。
一個人的『品味』或許可以來自於天生;但也可以從『願意』把自己經年累月的體會,為自己開立了一個『知識存庫』,慢慢更新自己。
這一切,來自於『願意』的心。
或許,我們可以試著把自己當成一張白紙;
任憑『藝術家』的巧手,把這張紙,創造出更令人欽佩的作品。
呈現出來的,不為了滿足別人,而是讓自己更加欣賞這樣的美好。
極簡大師告訴我,她巧妙地運用了平凡的紙張,創造出不平凡的藝術品。
你也許納悶,為甚麼OBHL-極簡保養,說了這麼多關於「生活」與 「藝術」的事情,這些訊息,與保養品何干?因為,保養,本質上,就是生活藝術。
想要體會『極簡美』但還無法深刻領悟的朋友,鼓勵你別著急,我深信總有一天,在某一個時間點上,你也會想通。只要持續跟著那一刻『願意』的心。
我對『極簡』的崇敬,從感覺它莫名的吸引力,直到了解它和我『說』了甚麼,也不知經過了多少的『累積』,就像一個你很想交的朋友一樣,在某個時刻,你們累積的互動,就不知不覺成了有默契的好朋友。那一天來到的時候,內心是振奮與欣慰的。許多謎團,如拼圖般的疑惑點,一一解開後,踏實感會越來越明顯。對世間所謂的美學資訊,會在你心中,一個個歸位到自己的位置上。其實,你對許多事情的看法,也不知不覺會產生微妙的變化。
那一刻,很幸福。
「少而多」的保養哲理,不是虛無縹緲的夢想;而是可以實際地,為一個人在小小世界裡,成就一番美好的『作品』,光榮呈現在自己的人生舞台上,以及臉上。
It is our honour that Dr.Gordon,CEO of OBHL ,attended the exhibition of the international minimalist artist Tadaaki KUWAYAMA × Rakuko NAITO from USA on this May .
Strongly inspired by their concept in art ,which OBHL is working too in the industry of life art and aesthetic .
written by
Dr.Gordon
CEO of OBHL Biotechnology .